800 Park Condos for Sale
Included below are Condos for sale in 800 Park. If you would like more information on any of these 800 Park Condo listings, just click the "Request More Information" button when viewing the details of that property. We can provide you with disclosures, past sales history, dates and prices of homes recently sold nearby, and more.
Lets us know what you are looking for in your next Condo. We are experts on finding investment and student condos, condos close to the square or Ole Miss. We will be happy to provide you with disclosures, past sales history of other recently sold condos nearby, and more, if you haven't already, be sure to register for your free account so that you can receive email alerts whenever new 800 Park Condo listings come to the market.
Home owners interested in 800 Park Condos are often also interested in: 1200 Jefferson, Acadia Court, Colonial, High Cotton, Inmon House, The Ice House, The Van Buren
800 Park Condo Real Estate Market Statistics
September 19, 2020
There are a total of 6o condo units at 800 Park with 6 different floor plans ranging in size from 2 bedrooms 2 bathroom units to the Sycamore plan that is the largest floor plan with 3 bedrooms and 3 bathrooms. There are 4 different buildings at 800 Park, each building has 3 floors.
800 Park Building 1 has a total of 15 Units
800 Park Building 2 has a total of 12 Units
800 Park Building 3 has a total of 15 Units
800 Park Building 4 has a total of 18 Units
The MAPLE and MAGNOLIA floor plans are both 3 Bedroom, 3 Bathroom designs. Of the 60 total units at 800 Park, these 2 floor plans make up 36 of the total units. They are virtual identical layouts except that the MAGNOLIA floor plan is 6 inches wider. Both of these floor plans are only available as interior units. All of the interior units in Buildings 3 & 4 are MAGNOLIA floor plans. There is one interior stack of MAGNOLIA units located at the southeast end of Building 1. The other 2 interior stacks in Building 1 are the MAPLE floor plans. All the interior units in Building 2 are also the MAPLE floor plans.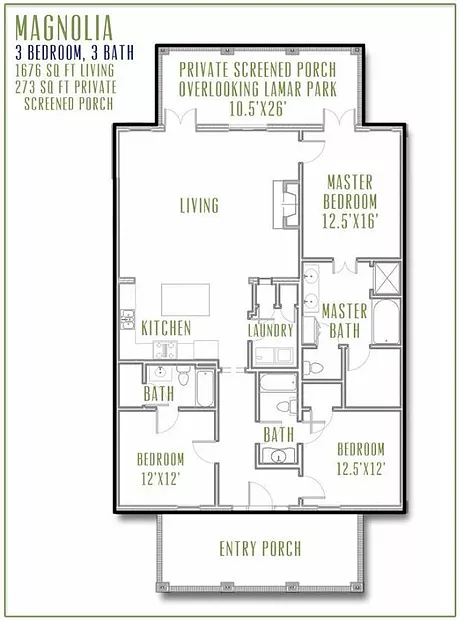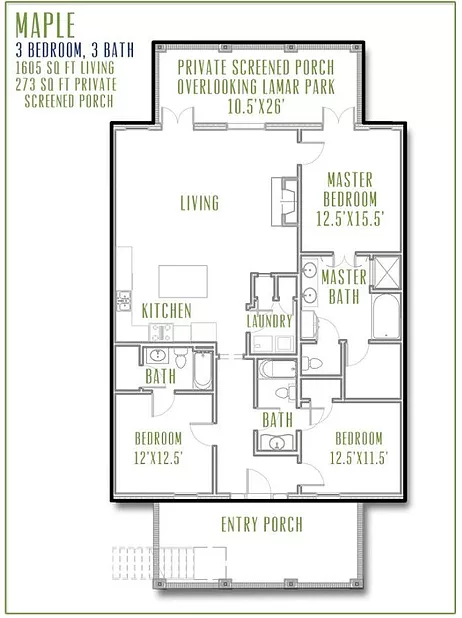 The remaining floor plans The CYPRESS, DOGWOOD, POPLAR and the SYCAMORE floor plans are end units.
The CYPRESS floor plan has a total on 12 units. There is one stack of CYPRESS floor plans in the northern end of Building 1, also on both ends of Building 2, and the southern most end of Building 3.
The DOGWOOD floor plan is only available in the southern most end of Building 1.
The POPLAR floor plan is available only in Building 3 at the northern most end.
The SYCAMORE floor plan, frames each end of Building 4.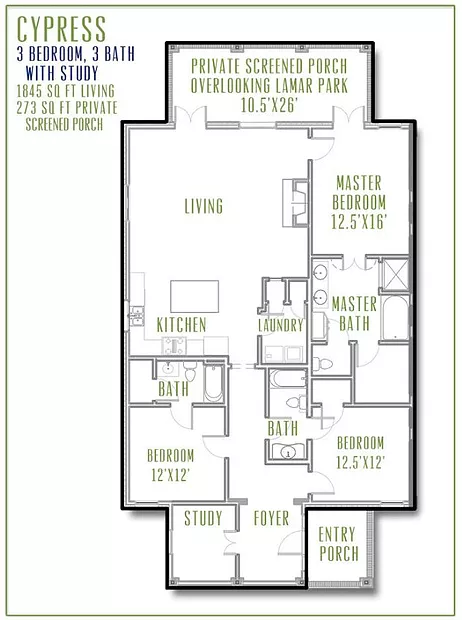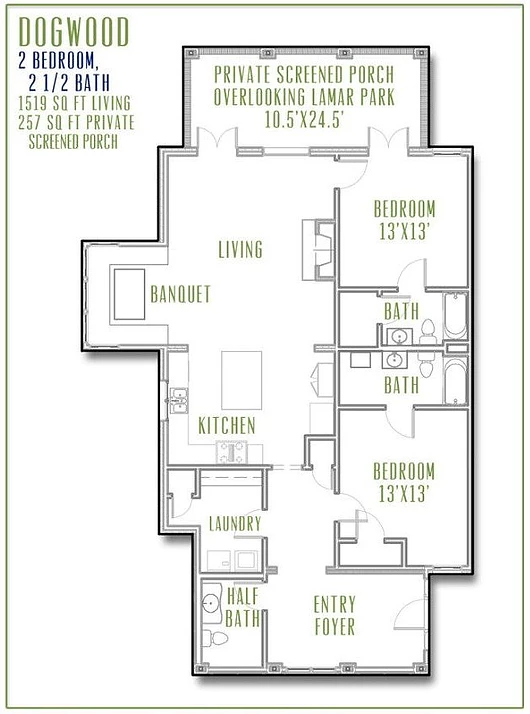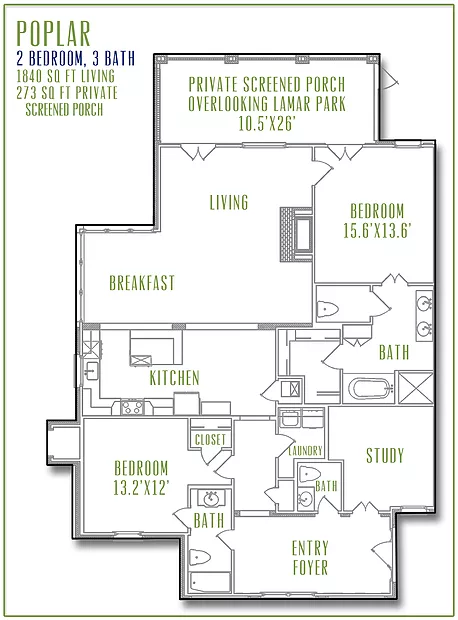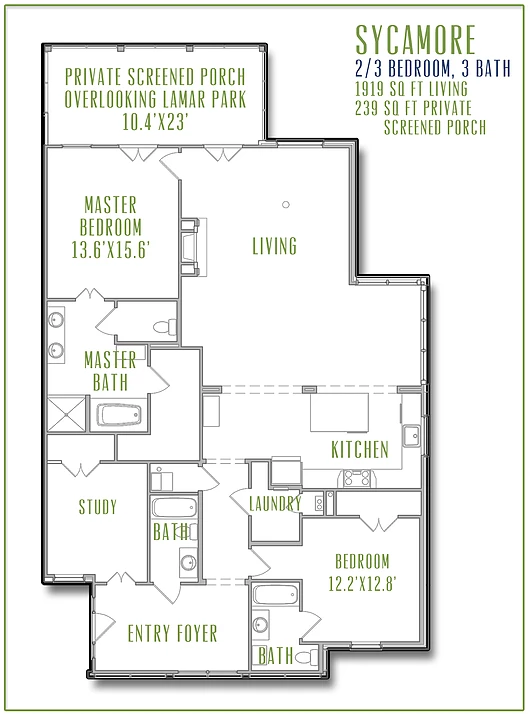 LOCAL Oxford MLS Listings
Oxford38655.com is updated every 10 minutes by a direct feed from our local Oxford Mississippi MLS which gives our users the fastest and most reliable information for monitoring real estate listings in Oxford.
If you see a property currently displayed on OXFORD38655.com, it means the property is still available for purchase. OXFORD38655.com displays ONLY currently active 800 Park condos for sale in Oxford. As soon as a listing goes under contract, its status is updated with a blue pending banner, once its closes, it is removed from our listing display. This allows you to save time by only searching for Oxford area real estate that is currently for sale. Be sure to register for a free Property Tracker account that allows you to create a personalized search by: price, zip code, street name, subdivision, school district or any combination of the other 50+ search criteria. You will be notified within minutes of a property that come on the market that match your specific criteria. Best of all— it's fast, easy, automatic and FREE! With a Property Tracker account, you'll be among the first to know about the newest homes or condos for sale in Oxford Mississippi.
Contact a CRYE-LEIKE Oxford REALTOR®
Oxford has a truly dynamic Real Estate Market. Ole Miss Athletics, and student attendance at the University of Mississippi are just two of the major driving forces that affect the price of houses and condos in Oxford. Oxford CRYE-LEIKE real estate agents are local Oxford neighborhood experts, we know the ins and outs of the Oxford real estate market. and will be happy to sit down with you and explain some of the broader market trends that are unique to Oxford. We are here to help when you need us. Our direct phone number is 662-260-3452. Or you may contact us via the contact form here.
Planning to sell a home in Oxford? Check out our free home evaluation, where you can instantly price your Oxford area home online in minutes!